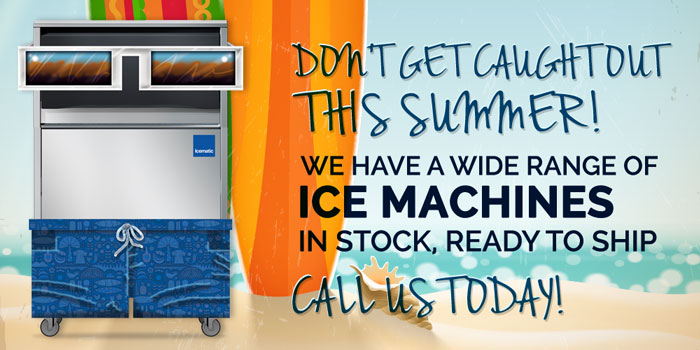 ---
With Summer kicking off this week and the temperatures set to rise, so will the demand for ice machines. For this very reason we ensure we have plenty of stock at this time of the year so no one is left out in the heat, especially close to the holiday period.
Built Tough for Australian Conditions
All our ice machines are built tough from quality components that are able to stand up and continue working through our harsh Summer conditions. Always reliable, these 100% Italian made ice machines will deliver batch after batch of crystal clear ice, ensuring a constant supply when you need it most.

Invest in a Quality Ice Machine
We here at Scots Ice know that a new ice machine is an investment for your business and that is the reason we will only supply a quality brand and product as well as offer premium after sales support.

Wide Range of Spare Parts on Hand
Not only do we maintain stock of our ice machines, we also make sure we have a wide range of parts on hand in case things do go wrong. The last thing you want is your machine to break down and no one can fix it.

Backed by Specialised Technicians Australia Wide
As well as quick access to parts we are also backed by more than 200 specialised technicians from all across Australia to service its equipment, ensuring your machine is never down for long.

Highly Professional and Personalised Service
Scots Ice Australia draws upon the diverse talents and expert knowledge of our entire team to provide customers with a highly professional and personalised service, It's all part of the Scots Ice Australia commitment to provide quality products and service to each and every client.

Australia's Choice for Ice Machines
Whether you are looking to add an ice machine to your establishment or upgrade to a new one, call us today on 1800 222 460 for advice on the right ice machine for you.

---
posted by
scotsiceaustralia

on 04/12/2018