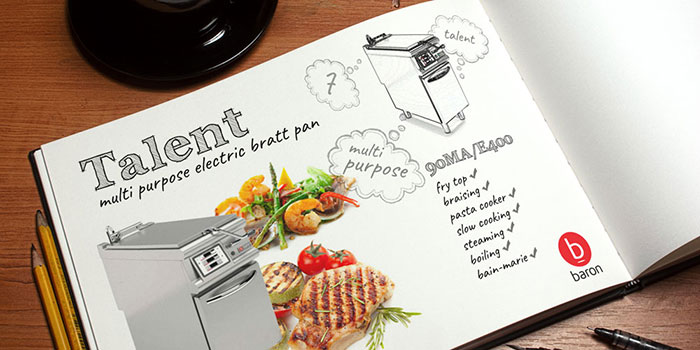 ---
The multifunctional Talent is based on Baron's tradition and innovation and the willingness to provide flexible and versatile cooking equipment that guarantees innovation and convenience.
The Baron Talent provides 7 functions in 1 piece equipment: fry-top, braising, slow cooking, pasta cooker, steam cooking, boiling and bain-marie. Cooking is kept under control thanks to the optional core probe and all parameters are set with a very intuitive, easy to use touch-screen interface.

The two USB outputs, located under the control panel, allows recipes to be stored as well as the ability to be shared. The work surface and dashboard are in AISI 304 stainless steel and the heating elements are coated in a high-thermal aluminium casting.

Multifunctional, space optimisation, convenience and precise control of the cooking process are just some of the benefits that the new multifunction Talent will bring to the world of professional catering.
---
posted by
scotsiceaustralia

on 19/11/2018