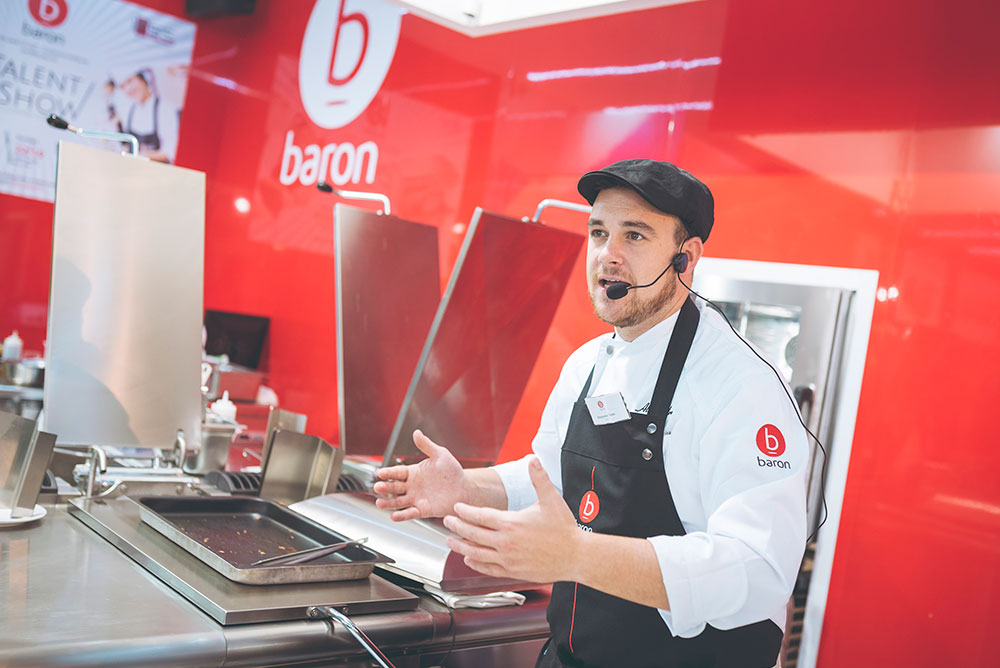 7 Talents in your kitchen
1. FRY TOP
The most used method of cooking in the kitchen, the multifunctional Talent makes it even more practical and fast. The smooth mild steel, non-stick cooking surface, with high heat resistant coated elements, allows cooking at high temperatures. With the optional core probe you will get the maximum accuracy while cooking.
2. BRAISING
Used mainly for preparation of red meat and game, braising is a combination cooking technique utilising both wet and dry heat. By programming the core probe and the use of the timer you will achieve consistent and brilliant results. Talent also lets you cook dishes simultaneously with the use of a dividing grid.
3. PASTA COOKER
No more boiling of pots on traditional burners, with the Talent set in automatic mode, it will bring 16 litres of water to a boil within 8 minutes. All that is left to do is the cooking.
4. SLOW COOKING
Suitable for the preparation of soups, stews and meat, with ability to simmer at low temperatures for long periods of time. Thanks to this type of cooking, these dishes will improve in taste and quality as a result. The ability to slow cook overnight also allows you to save time and resources and always have dishes prepared and ready to serve.
5. STEAM COOKING
Using only 3 litres of water and the specifically designed lid to create the perfect steaming environment, you can create healthy and nutritious dishes whilst saving time, energy and water. By controlling the cooking process through the use of the probe you will be able to organise your work day to the fullest.
6. BOILING
A function that allows you to get perfect cooking results whilst keeping the organoleptic qualities, the weight and softness of the product. Through the automatic filling of water and the power transmitted by Talent you will be able to take advantage of the full tank in just over 12 minutes.
7. BAIN-MARIE
A traditional technique, useful to keep food, such as side dishes and sauces, hot and ready to serve. It is also possible to perform thermostatic cooking (CBT) thanks to uniformly distributed elements and precise temperature control with the use of the core probe.