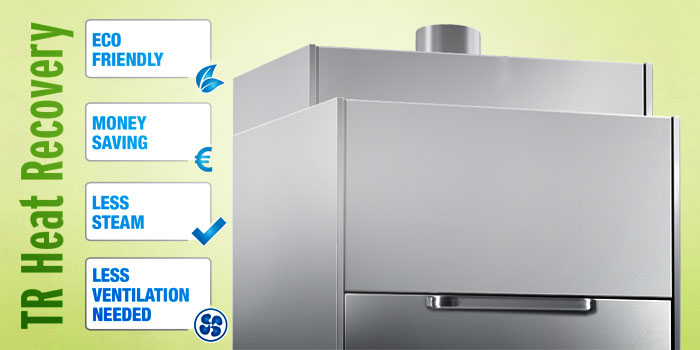 Steam Condenser Heat Recovery System
Energy Saving Care For The Environment And Your Health
With the DIHR warewashing models LP1S8TR / LP2STR / LP3STR / LP4S8TR PLUS, up to 50% of energy costs can be saved!
The TR system is an heat exchanger: the moist warm water vapour is drawn directly out of the machine when the door is closed, and used for pre-heating the cold water supplied up to around 50°C.
As a result, the energy required to reach the final rinse temperature (approx. 85°C) is dramatically reduced. Depending on the model you can save between 3.5kWh and 5.5kWh.
DIHR TR technology improves the room's air quality and climate as well. The heat exchanger reduces the exhaust air temperature by more than an half.
The entire humidity volume is cut down by approx. -20% of the equivalent machine without a heat recovery unit. This permanently improves the operators' comfort.