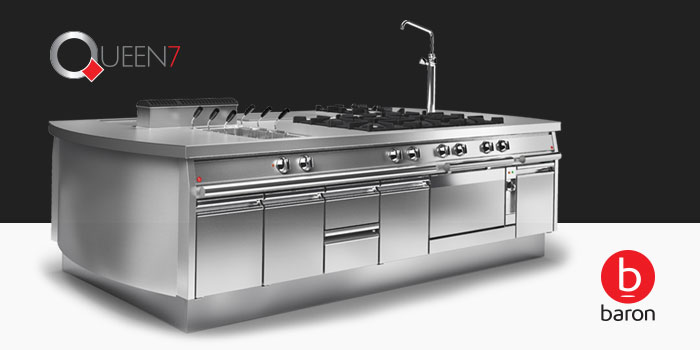 ---
The Queen7 series, medium line, 700mm deep commercial cooking equipment from Baron is the perfect line for small to medium sized establishments featuring the quality and reliability you have come to expect from Baron, at an affordable price.
For those who cannot do without the quality and sturdiness of a Queen kitchen, Series 7 offers 700 mm depth and a smaller footprint, thus fitting into any room, burners available in various configurations and power ratings and a stylish Scotch-Brite finish.
"Queen7, the most compact and versatile solution for every workspace"
The fully-modular design offers exceptional compositional choice: you can combine various kitchen models with lower ovens and cabinets along with a wide array of accessories, offering outstanding solutions that always provide the perfect answer to a chef's needs.
As a complete guarantee, every piece of equipment used to create a Queen7 kitchen has a certificate of conformance to international standards, including CE, GAR, AGA and others.
---

15/10 worktop thickness
Stainless steel, Scotch-Brite finish
Sturdy and powerful with compact design
Depth of 700 mm means it will fit the most common configurations
Catalogue offers more than 300 standard models
Worktop, base cabinet, base cabinet with doors and oven versions
Twin-piece knobs prevent the infiltration of dirt and are watertight
Gas kitchens having burners with various configurations and power ratings
Wide range of accessories
---

The IPX5 water jet ingress protection rating knobs offer optimum grip and help the chef to have the setting controls right under their eyes

The front bar is a new design feature that increases the kitchen's visual importance and offers clear benefits

The innovative recessed door handle extends continuously along the entire top edge of door. Its peculiarity is not protruding from the doors due to being recessed: this helps to prevent accidental contact whilst working

Doors with self-closing hinges is another added feature with the new design. Not having to worry about forgetting to close the door and creating a potential hazard, especially in a busy kitchen

The huge choice of accessories allows equipment to be adapted to meet numerous different requirements, both practical and aesthetic, and create a set of eye-catching, fully-functional complementary components

RAL paint treatment available on request for those wishing to make a statement with their kitchen equipment and add those finishing touches by allowing the colour pallete and aesthetic of the establishment to extend beyond the boundaries of the kitchen and brings the whole place to life
---

---
To view the entire catalogue of the Baron 700mm deep cooking equipment including accessories, click the below link to download a copy.
---
posted by
scotsiceaustralia

on 22/06/2021